Invisalign Pompano Beach 33060
Where Can I Find Invisalign In Pompano Beach FL?
Our team at John Orthodontics specializes in Invisalign and Invisalign Teen in Pompano Beach FL. Invisalign eliminates the use of metal, wires, and elastics. Clear aligners are made of a smooth, thermoplastic SmartTrack material designed specifically for the Invisalign treatment. This technology allows better control over tooth movement and makes aligners easier to take in and out.
How Will Invisalign Straighten My Teeth?
Invisalign is the clear alternative to metal braces! The Invisalign system uses clear aligner trays that are substituted in increments to gently and gradually shift teeth into proper alignment. Each set of aligners is worn for approximately 2 weeks until they are replaced for the next set in the series. A Pompano Beach orthodontist such as Dr. John will monitor your treatment and progress every step of the way until the desired results are achieved.
How To Get Started With Invisalign
Every Invisalign treatment starts with a free consultation with an orthodontist in Pompano Beach at John Orthodontics. Dr. John will evaluate your needs, set goals for treatment, and determine the best treatment option available for you. At John Orthodontics, we use the latest technology to digitally capture dental impressions, which eliminates the use of messy molds. As a result, we are able to customize a treatment plan and preview the final results before the first set of aligners is even created.
Why Choose Invisalign Teen In Pompano Beach FL?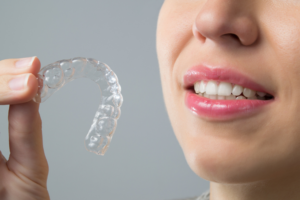 For a teenager, appearances are everything. Although this is an ideal time for orthodontic treatment, traditional braces can have an effect on a child's life. However, Invisalign eliminates all of the negative aspects of braces. Invisalign is the only option that is virtually invisible, so no one will even notice when you're wearing them. Memorable occasions such as prom and yearbook pictures won't be overshadowed by a mouth full of metal. In addition, clear aligners are the only removable option, which allows teens to continue enjoying their favorite foods and activities, such as sports or band practice.
Am I Too Old For Braces?
At John Orthodontics, we understand that first impressions are important, especially as an adult. Adult braces and Invisalign have become common interests for people who never got to receive the proper orthodontic care earlier in life. However, Invisalign offers many distinct advantages over traditional braces, which can be beneficial to adult patients. Invisalign is a clear option for straight teeth that won't hinder your appearance. Now you can receive the positive benefits of braces without having an effect on your professional or social life.
What Are The Benefits of Invisalign?
The Invisalign system offers advantages with treatment that are impossible with other orthodontic options. The benefits of Invisalign include remaining:
Invisible – virtually invisible for orthodontic treatment that is undetectable to anyone else.
Comfortable – made of smooth thermoplastic, which eliminates the need for elastic or stainless steel. Each set is custom-made for a perfect fit so you never have to worry about them slipping or falling out.
Convenient – removable for eating and cleaning so you can continue to enjoy all of your favorite foods and never affect any daily activities.
Durable – designed to match your lifestyle, so they can be worn and removed whenever necessary without any complications.
Finding Invisalign Pompano Beach 33060
Dr. John and our team at John Orthodontics are experts in orthodontic care. We are here to answer any questions you may have involving Invisalign or Invisalign Teen in Pompano Beach FL, Parkland FL, Coral Springs FL, Coconut Creek FL, Boca Raton FL, Deerfield Beach FL, and Weston FL. Contact John Orthodontics to schedule a free consultation today. Call now 954-575-3313.